Ok, this is going to be a girly post. There is nothing hotter than seeing tall athletic men ... getting all sweaty.... doing...what they do... Ahem! I'll leave more of the details to the girls reading this post.
My eye-candy from this world cup....this list is not complete of course...there are too many hot Italians ;) especially after today's KICK ASS match against Germany. Feeling sorry for Klose and Lehmann though.
Messi - Argentina. Ok. This is cradle snatching... I know... he's only 19. But very cute.
Ronaldo .... not R9 from Brazil... but the one from Portugal.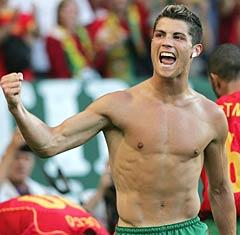 Jurgen Klinnsmann - The German coach (THUD!)